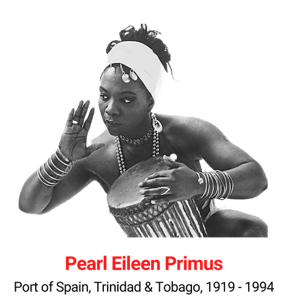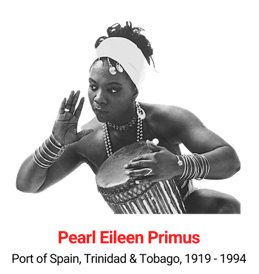 Pearl Primus was an African-American dancer, choreographer, anthropologist, and teacher. She was born in Trinidad in 1919 and raised in New York City, where she attended Hunter High School from 1933 to 1937. Primus received her BA in biology from Hunter College in 1940, where she had been preparing for a career in medicine. Her career goals changed, however, when she began dancing with the New Dance Group, an integrated, politically progressive dance collective. Primus made her professional dance debut in New York City in 1943. She began performing at the Café Society, an integrated nightclub, and in 1944 she gave her first solo recital, performing to poetry and the music of folksinger Josh White. Later that year she traveled the American South, where she worked as a cotton-picker in order to learn more about the plight of African-Americans in the region, an experience that later inspired several dances.
In 1946 Primus took graduate classes in education at Columbia University and performed professionally with her own company and with the New York revival of Showboat and the Chicago Civic Opera production of The Emperor Jones. In 1949, Primus traveled to Africa on a grant from the Julius Rosenwald Foundation. She lived with indigenous communities in Nigeria and the Belgian Congo, among others, observing and recording African dances, ceremonies, and other cultural activities and aspects of society.
After that, she toured internationally with her company and as a solo artist, performing in England for King George IV and Queen Mary in 1951, at the inauguration of Liberian President William V. S. Tubman in 1952, and with her company in Israel and France in 1952.
Primus received her MA in educational sociology from New York University and was awarded a grant from the Rebecca Harkness Foundation to study in Africa in 1959. Upon her return to the U.S. in 1963, Primus founded the Primus-Borde School of Dance, where she developed methods of cross-cultural education through dance. Primus tested these methods in New York City elementary schools from 1965 through 1968 and published her findings for the U.S. Department of Education in 1968. Her phonograph record, Pearl Primus' Africa, was recorded to assist teachers in elementary and high schools.
In 1969, while pursuing a doctorate in anthropology at NYU, Primus was appointed professor at Hunter College. In asserting that dance was an international language, Primus became the first NYU student to use dance to fulfill the language requirement. After completing her dissertation on the use of sculpture to acculturate children in the Mano tribe of Liberia, Primus received her PhD in anthropology in 1978. She began the Pearl Primus Dance Language Institute to promote her blending of African-American, Caribbean, and African influences with modern dance and ballet techniques.
Primus was appointed director of the Cora P. Maloney College at State University of New York-Buffalo in 1982, where she taught for two years. From 1984 to 1990, Primus served as a professor of ethnic studies and artist-in-residence at the Five College Consortium in Massachusetts. In the following years, Primus was in residency at Howard University, taught at NYU, and worked towards the founding of the Pearl Primus Dance Arts Foundation.
Excerpt from Pearl Primus Collection, 1920-1994, Duke University. Online
Further reading:
SCHWARTZ, P.; SCHWARTZ, M. (2011). The Ph.D. In: The dance claimed me: a biography of Pearl Primus. New Haven & London: Yale University Press. PDF
Main publications:
1950. Earth Theatre. Theatre Arts, 34(12), 41.
1950. People and Ideas: In Africa. Vogue (New York), 116(7), 98.
1968. A Pilot Study Integrating Visual Form and Anthropological Content for Teaching Children Ages 6 to 11 about Cultures and Peoples of the World; Specifically, the Preparation of a Danced Presentation with Lecture Interpreting Some of the Cultural Values in West and Central African Communities. Final Report.
1980. Dance among Black people in America. New York: City College of New York.
1980. Anthropological study of masks as teaching aids in the enculturation of Mano children. Ann Arbor, Michigan: University Microfilms International.
1993. Marian Chace Annual Lecture: Cultural bridges. American journal of dance therapy, 1993, Vol.15 (1), p.5-10. Online