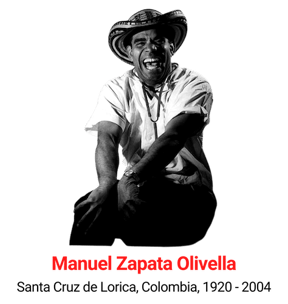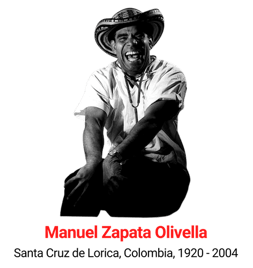 Afro-Colombian intellectual Manuel Zapata Olivella (1920-2004) is known throughout Latin America as the "Dean of Black Literature" and is considered one of the twentieth century's most important Afro-Hispanic novelists. He was also a noted Colombian anthropologist, folklorist, physician, playwright, and screenwriter; his work to document and preserve the history and culture of Afro-Colombia through oral history, television, radio, and literature is legendary.
Zapata Olivella was born in Lorica, in the municipality of Córdoba, in northern Colombia, on March 17, 1920. He spent his early childhood in this rural town before moving to Cartagena with his family in 1927, where he attended school through his first year of medical preparation. During those formative years, Zapata Olivella developed many of the interests that shaped his intellectual inquiries. Thanks to a richly diverse family background, he became deeply committed to the study and promotion of Afro-Hispanic culture in the Americas. His parents, Antonio María Zapata and Edelmira Olivella, were, respectively, a "mulato" (of European and African descent) and a mestiza (of Zenúe indigenous people and Spanish descent) who managed to instill in their children a sense of pride and commitment to the tri-ethnic population of Colombia; Zapata Olivella and his six brothers and sisters all became important public figures in Colombia's academic and artistic circles.
Education was a strong value in the Zapata Olivella household. In fact, the family moved to Cartagena so that Antonio María could attend the Universidad de Cartagena; he was the first black Colombian to graduate from the institution. 1 Accordingly, Manuel Zapata Olivella moved to the capital in 1939 to pursue medical studies at the Universidad de Bogotá. He graduated in 1949, having taken a leave of absence between 1943 and 1944 to travel abroad. During the hiatus between his first and second periods of medical school, Zapata Olivella traveled extensively throughout Latin America, the United States, and Europe. During these explorations, he developed an anthropological eye and became aware of issues that would later provide material for many of his works. Traveling in the United States in 1946 was a particularly relevant influence; because he witnessed racial segregation and discrimination, Zapata Olivella became even more interested in the study of race relations in the Americas.
Excerpt from Biography and selected correspondence, Manuel Zapata Olivella Collections, Vanderbilt University. Online
Further reading:
HIDALGO, Y. (1993). The culture of fiction in the works of Manuel Zapata Olivella. University of Missouri Press. PDF
PALACIOS, G. (2016). Manuel Zapata Olivella: un pensador político radical y hereje de la diáspora africana em las Américas. In: Aragón, W. M. (ed.). Manuel Zapata Olivella: un legado intercultural. Bogotá: Bolivar, pp.551-567.
TILLIS, A. (2005). Manuel Zapata Olivella and the "darkening" of Latin America literature. University of Missouri Press. PDF
Novels and essays (all available online):
1947. Tierra mojada
1948. Pasión vagabunda
1952. He visto la noche
1954. China 6 am
1960. La calle 10
1961. Cuentos de muerte y libertad
1962. El cirujano de la selva
1963. Detrás del rostro
1963. Chambacú, corral de negros
1964. En Chimá nace un Santo
1967. ¿Quién dio el fusil a Oswald?
1983. Changó, el Gran Putas
1983. Historia de un Joven Negro
1986. El fusilamiento del Diablo
1989. Hemingway, el cazador de la Muerte
1989. Chambacu, Black Slum, translator Jonathan Tittler, Latin American Literary Review Press.
1990. Fábulas de Tamalameque
1997. La rebelión de los genes
2010. Changó, the Biggest Badass, translator Jonathan Tittler, Texas Tech University Press.
2013. A saint is born in Chima: a novel. Translator Thomas E. Kooreman. University of Texas Press.
Other publications:
1961. Los pasos del folklore Andino. Boletín cultural y bibliográfico 4 (3): 234.
1962. Los Ritmos Populares. Boletín cultural y bibliográfico 5 (11): 1498.
1962. Los Pasos del Folklore Colombiano. Boletín cultural y bibliográfico 5 (5): 598.
1964. Aculturación del Arte Popular Colombiano. Boletín cultural y bibliográfico 7 (9): 1660.
1968. La atmósfera sicoantropológica en la novelística de Juan Rulfo. Boletín cultural y bibliográfico 11 (3): 143.
1967. El folclor y sus relaciones con la Artesanía y el arte. Boletín cultural y bibliográfico 10 (7): 1590.
1972. Tradición oral y conducta en Córdoba: estudio investigativo elaborado para la División de Desarrollo Social Campesina del Incora. Bogotá: Subgerencia de Desarrollo Agricola, División de Desarrollo Social Campesino.
1973. Por una poltica educativa de identidad nacional. Arco (Colombia), no. 146: 25–28.
1974. El Hombre Colombiano. Vol. 1. Bogotá: Canal Ramírez-Antares.
1983. Zapata Olivella, Manuel, and Brenda Frazier Clemons. "A Stranger Under My Skin." Afro-Hispanic Review 2 (3): 8–12.
1987. Nuestra voz: aportes del habla popular latinoamericana al idioma español. 1a ed. Bogatá, D.E., Colombia: Ecoe.
1987. Memoria de la palabra. Revista de estudios colombianos (1986) 2 (2): 1–2.
1988. Negritud, Indianidad y Mestizaje en Latino America. Présence africaine 145 (145): 57–65.
1989. Las claves mágicas de América. 1. ed. Bogotá, Colombia: Plaza & Janés.
1990. Levántate mulato!, por mi raza hablará el espiritu. 1. ed. Bogotá: Rei.
2002. El arbol brujo de la libertad. África en Colombia: orígenes, transculturación, presencia, ensayo histórico mítico. Universidad del Pacifico.
2002. Los Ancestros Combatientes: Una Saga Afro-norteamericana. Afro-Hispanic review 21 (1/2): 9–16.
2006. Artel, el maestro. Afro-Hispanic review 25 (1): 147–61.
2006. Descolonización de la novela histórica latinoamericana. Afro-Hispanic review 25 (1): 131–45.
2006. El mestizaje en la nueva novela hispanoamericana. Afro-Hispanic review 25 (1): 163–70.
2006. Palabras del Doctor Manuel Zapata Olivella al recibir el Premio Literario de los Nuevos Derechos. Afro-Hispanic review 25 (1): 175–77.
2006. Los problemas de identidad de los escritores afro-latinoamericanos. Afro-Hispanic review 25 (1): 171–73.
2009. Itxao, El Inmortal. Afro-Hispanic Review 28 (1): 193–250.
2010. Zapata Olivella, Manuel, and Alfonso Múnera. Por los senderos de sus ancestros: textos escogidos, 1940-2000. Bogotá: Ministerio de Cultura.
2014. El Muntu En América (Our People in America). In Bridging Scholarship and Activism, 99. Michigan State University Press.
2019. Millán de Benavides, Carmen, Peter Rondón Vélez, and Manuel Zapata Olivella. Entre ekobios. Vol. 3. Bogotá: Instituto Caro y Cuervo.
2020. Manuel Zapata Olivella, Poemas Inéditos. Visitas al patio 14 (1): 201–15.
2020. Zapata Olivella, Manuel, Nancy Friedemann-Sánchez, and Instituto Caro y Cuervo. Un acordeón tras la reja. Bogotá: Instituto Caro y Cuervo.
2020. Zapata Olivella, Manuel, Juan Sebastián Ochoa, and Carolina Santamaría Delgado. Tambores de América para despertar al viejo mundo. Primera edición. Santiago de Cali, Colombia: Sello Editorial Javeriano.
2022. Zapata Olivella, Manuel, and Jonathan Tittler. Changó, Decolonizing the African Diaspora. New York, NY: Routledge.