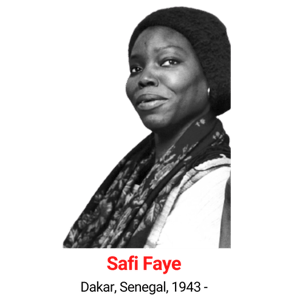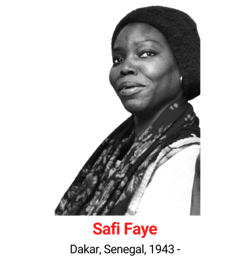 Considered to be the first African woman to make a film (La Passante, 1972) and also the first to direct and commercially launch a feature film (Kaddu Beykat, 1975), the Senegalese Safi Faye has a long filmography spanning more than 50 years and of which the breadth, vigorousness, and topicality are yet to be fully understood and distinguished. Despite the wide acknowledgment of her trailblazing and the recent diffusion intensification of her three feature films (Kaddu Beykat, Fad'Jal, and Mossane), a great part of her work is still unknown to the public. When questioned for whom she made a film such as Fad'Jal, she has once said, with her usual sharp perspicacity: "First of all for Africa, for African people – those who know what Africa is and those who don't know although they think they do. And then for the rest".
Safi Faye was born in 1943 in Dakar in a large peasant family. Her parents were born in Fad'Jal, a village in the South of Dakar, and are of Serer ethnicity. As a young woman, she began working as an elementary school teacher, which allowed her to attend artistic and cultural events. It was in one of these events that she met the French ethnologist and filmmaker Jean Rouch (1917-1994) at the World Festival of Black Arts in Dakar in 1966. After meeting him, she had her first experience in film as an actress in Petit à Petit (France, 1970).
In 1972, Safi settled in Paris to begin her studies in Ethnology at École Pratique des Hautes Études en Sciences Sociales, and the following year, she entered the Louis Lumière Film School. In 1979, she concluded her Ph.D. in Ethnology at Paris University, focusing her research on the Serer ethnicity, and was invited, in the same year, to be a faculty member of the Free University of Berlin, where she also studied video production.
Safi Faye moves between two extremes, two places of speech delimited by colonization. The first is this intimate gaze on her life inside the village, the relationships with her family, and the community. The second is a view from her diasporic trajectory. By leaving the village, she developed this "double look" on Africa, and these aspects promote fundamental transformations expressed in her work. Not only does she research her community, but also she makes films about and with it.
Excerpts from Double Look: a brief reflection on the work of Safi Faye, by E. Sacramento (2018), and Tribute to Safi Faye (2018), by FestCurtasBH. Both available online
Further reading:
DE GROOF, M. (2018). Ethnographic Film's Relation to African Cinema: Safi Faye and Jean Rouch. Visual Anthropology, 31:4-5, 426-444. Online
ELLERSON, B. (2019). Safi Faye's Mossane: a song to women, to beauty, to Africa. Black Camera: an international film journal 10, no. 2: 250–265. Online
PhD Thesis:
1976. Contribution à l'étude de la vie religieuse d'un village sérère, Fadial (Sénegal). Ecole Pratique des Hautes Etudes, Thèse.
Filmography:
1972. The Passerby (La Passante), 10 minutes
1973. Revenge, 15 minutes
1975. Letter from My Village (Kaddu Beykat), 98 minutes
1979. The Harvest Is In (Göob Na Nu), 29 minutes
1979. Come and Work (Fad'Jal), 113 minutes
1979. Three Years and Five Months, 30 minutes
1980. I, Your Mother (Man Sa Yaay), 60 minutes
1980. As Women See It? 32 minutes
1981. Souls in the Sun, 27 minutes
1983. Selbé: One Among Many, 32 minutes
1984. Ambassades nourricières, 52 minutes
1985. Elsie Haas, Haitian Woman Painter, and Filmmaker, 8 minutes
1985. Black Roots, 11 minutes
1989. Tesito, 27 minutes
1996. Mossane, 106 minutes