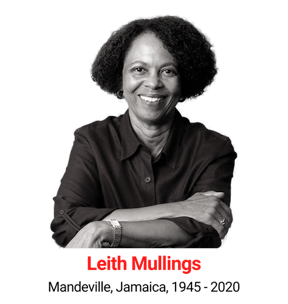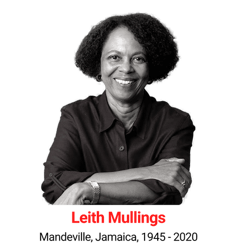 As pesquisas de Leith Mullings transformaram a forma como os estudiosos compreendem a inter-relação entre racismo, opressão de gênero e classe, demonstrando como as formas de opressão se interseccionam e criam estresse agudo e tensão crônica, mesmo quando as pessoas buscam mitigar os efeitos dessa subjugação através da resistência coletiva. A partir do trabalho realizado nos centros de saúde que ajudou a fundar, financiados pelo Projeto Harlem Birthright, ela desenvolveu o conceito da "Síndrome de Sojourner" para refletir acerca das formas pelas quais as intersecções entre raça, classe, gênero e resistência à opressão moldam o corpo e os modos de vida das mulheres negras.
Grande parte de suas publicações se refere à antropologia urbana e aos temas das desigualdades na área de saúde, dos movimentos sociais e das lutas de pessoas negras pela liberdade, com foco no contexto estadunidense. Porém, Mullings também estava comprometida com uma abordagem comparativa e global. Seu primeiro livro, Therapy, Ideology and Social Change: Mental Healing in Urban Ghana, é fruto de seu trabalho de campo como estudante de doutorado na Universidade de Chicago. Sua etnografia mais recente examinou o movimento Black Lives Matter como parte de um projeto colaborativo e antirracista, analisando as condições dos povos indígenas e afro-descendentes no hemisfério ocidental.
Mullings foi uma acadêmica original e influente, mas também se engajou por anos a fio como uma intelectual pública. Ela foi presidente da Associação Antropológica Americana de 2011 a 2013.
Para saber mais:
BAKER, L.D. (2021), Leith P. Mullings (1945–2020). American Anthropologist, 123: 983-987. Online
BLAKEY, M.L. (2021), Remembering Leith. Transforming Anthropology, 29: 95-101. Online
MULLINGS, L. (2005/2013). Inquirindo o racismo: em direção a uma antropologia antirracista. CS No. 12, 325–375. Cali, Colombia. PDF
Site oficial: http://leithmullings.com
Obras
2021. The Biology of Racism. American Anthropologist, 123(3), 671–680. Online
2019. Mapping Gender in African-American Political Strategies. Monthly Review, 71(4), 40–50. Online
2017. HALE, C., CALLA, P., & MULLINGS, L. Race Matters in Dangerous Times. NACLA Report on the Americas, 49(1), 81. Online
2015. MARABLE, & MULLINGS, L. How Capitalism Underdeveloped Black America. Haymarket Books. PDF
2015. Blurring boundaries: post-racialism, inequality and the anthropology of race. Journal of Contemporary African Studies, 33(3), 305–317. Online
2014. "Movement, Migration and Displacement: What Can Anthropologists Contribute to the Public Discourse?" American Anthropologist, 116 (1):147-48. Online
2013. "Presidential Address: Anthropology Matters," American Anthropologist, 117(1):4-16. Online
2009. New Social Movements in the African Diaspora: Challenging Global Apartheid. New York: Palgrave MacMillan. Online
2009. Let Nobody Turn Us Around: An Anthology of African American Social and Political Thought from Slavery to the Present, Second Edition, (co-editor with Manning Marable) Lanham, MD: Rowman and Littlefield. PDF
2006. Gender, Race, Class and Health: Intersectional Approaches (with Amy Schulz), San Francisco: Josser-Bass. PDF
2005. "Resistance and Resilience: The Sojourner Syndrome and the Social Context of Reproduction in Central Harlem," Transforming Anthropology, 13(2): 79-91. Online
2005. "Interrogating Racism: Toward an Antiracist Anthropology," Annual Review of Anthropology, 34: 667-93. PDF
2004. "Globalization and Race: Racialization from Below," Souls: A Critical Journal of Black Politics, Culture and Society, 6(2): 1-9. Online
2002. MARABLE, & MULLINGS, L. Freedom: A History of African American Struggle. The Crisis, 109(6), 25–31.
2002. "Losing Ground: Harlem, the 'War on Drugs' and the Prison-Industrial Complex," Souls: A Critical Journal of Black Politics, Culture and Society, 5(2): 22-41. Online
2002. Freedom: A Photographic History of the African American Struggle (with Manning Marable), London: Phaeton Press.
2001. Stress and Resilience: The Social Context of Reproduction in Central Harlem (with Alaka Wali), New York: Kluwer Academic/Plenum Publishers. Online
2000. African-American women making themselves: Notes on the role of black feminist research. Souls (Boulder, Colo.), 2(4), 18–29. Online
1997. On Our Own Terms: Race, Class and Gender in the Lives of African American Women, New York: Routledge. Online
1995. "Households Headed by Women in the United States: The Politics of Class, Race and Gender," In Conceiving the New World Order, Faye Ginsburg and Rayna Rapp, eds., Berkeley: University of California Press.
1995. Racism remains pervasive. New Politics, 5(3), 31–34.
1994. MARABLE, & MULLINGS, L. The divided mind of Black America: race, ideology and politics in then post-Civil Rights era. Race & Class, 36(1), 61–72. Online
1993. Images, Ideology, and Women of Color. In Women of Color in U.S. Society (p. 265). Temple University Press. Online
1987. Cities of the United States: Studies in Urban Anthropology, editor, New York: Columbia University Press.
1984. Therapy, Ideology and Social Change: Mental Healing in Urban Ghana, Berkeley and Los Angeles: University of California Press.
1978. Critique: Racism, Group Identity and Mental Health. International Journal of Mental Health, 7(3-4), 165–171. Online
1978. Ethnicity and stratification in the urban United States. Annals of the New York Academy of Sciences, 318(1), 10–22. Online